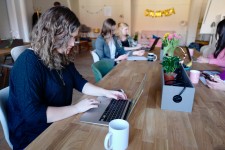 Healthy YOU Vending provides healthy, convenient snacks and entrees in workplaces to promote diets that help manage diabetes and prevent heart disease.
SALT LAKE CITY, November 6, 2019 (Newswire.com) - ​November is American Diabetes Month. In partnership with the National Heart, Lung and Blood Institute (NHLBI), this year's American Diabetes Month considers the link between diabetes and heart disease. According to the National Institute of Diabetes and Digestive and Kidney Diseases (NIDDK), the longer a person has diabetes, the higher their chances of developing heart disease—the leading cause of death in the U.S. According to the institute, the increased risk of heart disease is due to high blood glucose from diabetes damaging the blood vessels and nerves that control the heart.
Two types of diabetes exist, but according to the American Diabetes Association (ADA), the most common form is Type 2. Those with Type 2 diabetes can help manage their condition through a healthy diet and exercise, while also working with their healthcare provider to identify effective medications and treatments. Type 1 diabetes can be harder to manage and requires working closely with a healthcare provider to determine the best diet, insulin routine and fitness plan for effective management.
Managing both Type 1 and Type 2 diabetes and reducing the associated risk of developing heart disease requires healthy eating. Healthy YOU Vending provides healthier snack and meal options in the workplace through its network of independent operators. Healthy YOU Vending's options include low-sodium entrees and snacks with a low glycemic index.
"We are happy to provide convenient access to wholesome choices, all while helping our operators run successful businesses," said Healthy YOU Vending's Director of Operator Services Jill Navidomskis. "When people don't have to run out for a fast-food lunch that is high in both calories and sodium, it saves stress and makes the choice to eat healthy more accessible."
But healthy eating is only one step in managing diabetes and preventing heart disease. Regular exercise is equally important. According to a study of people with diabetes by researchers at Harvard, those who walked at least two hours a week are less likely to die of heart disease than their sedentary counterparts. And those who exercised three to four hours a week cut their risk even more. From these studies and others, it's clear that those who live sedentary lifestyles risk developing cardiovascular diseases. So, any type or duration of daily exertion will help to reduce the risk of illness.
###
Healthy YOU Vending is the world leader in the healthy vending industry. With corporate offices in Kaysville, Utah, the Healthy YOU team is dedicated to making healthier snacks, drinks and food products more accessible to people across North America. Owner/Operator opportunities are available.
Source: Healthy YOU Vending
Share: