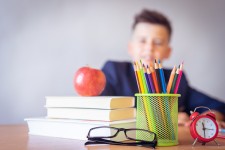 Providing healthier options in schools encourages students to make healthier choices.
SALT LAKE CITY, September 25, 2019 (Newswire.com) - ​​September is National Childhood Obesity Awareness Month. According to the Centers for Disease Control and Prevention, childhood obesity remains an epidemic, impacting roughly 13.7 million children and adolescents. Promoting healthy eating habits in schools is more important than ever. Healthy YOU Vending aims to combat unhealthy and detrimental snacking in schools by providing healthier options through its network of independent operators.
Since the implementation of National Childhood Obesity Awareness Month in 2010, the rates of this epidemic have stopped rising. Notwithstanding these efforts, the number of children struggling with obesity in America has not declined. Obesity puts kids at risk for Type 2 diabetes, high blood pressure and heart disease. Overweight children are equally at risk for health problems as they grow older. Establishing healthy eating habits early in life can help combat diet-induced diseases.
In 2014, the United States Department of Agriculture (USDA) established nutritional standards for food sold in schools. The Smart Snacks in School standard places strict nutritional guidelines on food available to students. But a study from the University of Illinois found that banning vending machines and unhealthy foods in schools don't make a difference in students' diets. In fact, the study shows that banning sugary soda and snacks can actually increase the consumption of empty calories and junk food as students seek unhealthy food elsewhere when it's not available in schools. One solution to this problem is offering healthier, less processed options in school vending machines.
Healthy YOU Vending is combating unhealthy snacking in schools by providing healthier options through its network of independent operators. "Our goal is to promote healthy lifestyles by providing our independent vending machine operators with the tools and resources needed to offer less-processed, wholesome foods to the facilities they serve, including schools," said Healthy YOU Vending's Director of Operator Services Jill Navidomskis. "When kids have access to healthier snacks, that's what they choose."
But providing healthier options in school vending machines is only one part of curbing childhood obesity. Battling this epidemic also must be waged at home. According to healthfinder.gov, small steps can make a big difference, such as keeping fresh fruits available, walking as a family and asking school administrators to provide healthy options and daily physical activities.
###
Healthy YOU Vending is the world leader in the healthy vending industry. With corporate offices in Kaysville, Utah, the Healthy YOU team is dedicated to making healthier snacks, drinks and food products more accessible to people across North America. All vending equipment is privately manufactured in the United States. Owner/Operator opportunities for serious-minded and health-conscious entrepreneurs are currently available in most states.
Source: Healthy YOU Vending
Share: