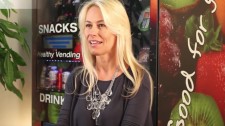 Over the past several decades, women have made enormous strides in business. HealthyYOU Vending is proud to have successful, women business owners represent the HealthyYOU brand.
Salt Lake City, Utah, October 27, 2016 (Newswire.com) - ​Every October, the National Women's Business Council (NWBC) along with leaders in the women's entrepreneurship community, come together to reflect on the advancements in business women have made in the last several decades.
Founded in NWBC, with the passing of the Women's Business Ownership Act, the organization was established in an effort to eliminate discriminatory lending practices. Today, the NWBC advises the White House, Congress and the Small Business Association on issues relevant to women business owners.
According to an article published by Forbes, the number of women-owned businesses has increased by 59 percent since 1997.
"Women's Small Business Month is a great time to highlight the advancements made by women in business and celebrate women business owners," said Amanda Brown, Executive Director of NWBC.
For generations, women were often discouraged from starting their own businesses, denied small business loans and faced discrimination from suppliers, customers, landlords and government officials. For many years, there was a prevalent attitude in much of the American workplace that women weren't supposed to be "the boss" and were only supposed to work in certain career fields such as teaching, nursing or other traditional "women's-only" work.
However, times have changed and fortunately, nowadays women are starting more businesses than ever before. According to an article published by Forbes, the number of women-owned businesses has increased by 59 percent since 1997. Women-owned companies have also see job growth of 10 percent and revenue increases of 63 percent since the same time.
As a small business opportunity, HealthyYOU Vending offers the most comprehensive healthy vending business support training in the industry and is committed to helping their operators understand the financing that is required to start and manage a small business.
HealthyYOU Vending encourages entrepreneurship by offering franchise-level support for all operators right from the start and is proud to have many women small business owners participate in their two-day intensive Healthy YOUniversity business training and lifetime coaching.
Having been a small business owner for more than 20 years, Terrie Matz was no novice to running her own operation when she became an operator with HealthyYOU. Currently in her fourth year of business as a HealthyYOU Vending operator, Terrie owns and operates 19 healthy vending machines throughout Lehigh Valley, PA, including Crayola corporate headquarters and manufacturing plants.
Additionally, when Alli Gardner from Salt Lake City sought out a new business opportunity, she wanted it to complement her existing health and wellness coaching business, Core of Health. Within a year, her healthy vending business saw the kind of success many small business owners dream about, with healthy vending machines in Salt Lake City, Utah-area hospitals, emergency centers and healthy-based call centers.
HealthyYOU Vending has women operators all over the country. Many people think that the big, populous states like California and New York are the biggest centers of American entrepreneurship. However, the states with the fastest growth in quantity, job numbers and revenues of women-owned businesses are North Dakota, the District of Columbia, Nevada, Arizona, Georgia, Wyoming, Virginia, Maryland, Texas and Utah.
For more information about HealthyYOU Vending, its entrepreneurial philosophy and the HealthyYOU Difference, go to http://www.healthyyouvending.com/
HealthyYOU Vending is the world leader in the healthy vending industry. Founded by seasoned vending veterans Mike Burnett and Jeff Marsh, their corporate offices are located in Kaysville, Utah. All company vending machines are privately manufactured in the United States at a state-of-the-art facility. Owner/Operator opportunities for serious-minded entrepreneurs are currently available.
Source: HealthyYOU Vending
Share: