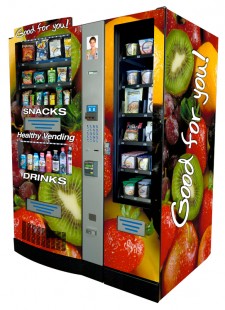 Studies show that smart, healthy snacking is critical to maintaining energy, improving mood and increasing productivity. HealthyYOU Vending provides convenient access to a variety of healthy snack options.
Salt Lake City, Utah, March 21, 2017 (Newswire.com) - "Put Your Best Fork Forward" is the theme for National Nutrition Month 2017 as set forth by the Academy of Nutrition and Dietetics. This year's theme serves as a reminder that each one of us holds the tool to make healthier food choices. Making small changes during National Nutrition Month and over time, helps to improve health now and into the future.
Initiated in March 1973 as a week-long event, "National Nutrition Week" became a month-long observance in 1980 in response to growing public interest in nutrition.
"Americans are more nutrition-conscious than ever before. They're eating healthier at home and then looking for those same options when they leave the house."

Mike Burnett, Owner of HealthyYOU Vending
This year, the campaign focuses attention on the importance of making informed food choices and developing sound eating and physical activity habit.
"Cooking from scratch will yield health benefits for you and your family," says registered dietitian nutritionist and Academy spokesperson Jennifer Bruning. "Serve regular, balanced meals and snacks with a variety of nutrient-rich foods and enjoy family dinners each night or as often as possible."
In addition to consuming regular, balanced meals, it is important to incorporate snacks with a variety of nutrient-rich foods, as Bruning mentions. According to a recent study from the U.S. Department of Agriculture (USDA), almost 20% of daily calorie intake comes from snack food. Making healthy snack choices needs to be an essential piece of a well-balanced diet, even for a busy society constantly on the go.
"Americans are more nutrition-conscious than ever before. They're eating healthier at home and then looking for those same options when they leave the house," says HealthyYOU Vending Owner Mike Burnett.
Each day, millions of Americans look to vending machines for a quick snack to fight off the mid-afternoon munchies. Studies show that smart snacking has a positive impact on mental alertness, energy levels, overall performance and staving off the hunger pangs that can cause overeating at mealtimes.
HealthyYOU Vending is dedicated to providing healthier snack choices for Americans with over 2,500 healthy vending choices to choose from.
As part of National Nutrition Month the Academy's website includes articles, recipes, videos and educational resources to spread the message of good nutrition and an overall healthy lifestyle for people of all ages, genders and backgrounds. Consumers can also follow National Nutrition Month on Facebook and Twitter (#NationalNutritionMonth).
For more information about HealthyYOU Vending, its entrepreneurial philosophy and the HealthyYOU Difference, go to http://www.healthyyouvending.com/.
-END-
HealthyYOU Vending is the world leader in the healthy vending industry. Founded by seasoned vending veterans Mike Burnett and Jeff Marsh, their corporate offices are located in Kaysville, Utah. All company vending machines are privately manufactured in the United States at a state-of-the-art facility. Owner/Operator opportunities for serious-minded entrepreneurs are currently available.
Source: HealthyYOU Vending
Share: