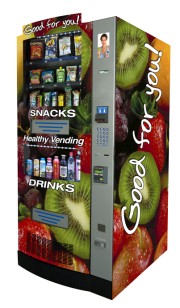 Up to 70% of employers now offer wellness programs to bring down growing healthcare costs and increase employee productivity. Healthy vending machines are a simple way to provide employees with healthy food and drink options in the workplace while supporting wellness program objectives.
Salt Lake City, UT, February 29, 2016 (Newswire.com) - ​​​​​​​​​​​​​​​​As healthcare costs for employers have ballooned over the last 15 years in the U.S. (an increase of 6.5 percent in 2016 alone), employers are looking towards preventative measures such as wellness programs as a way to reduce overall healthcare costs while improving employee wellness.
Forbes recently reported that 70% of U.S. employers currently offer wellness programs, and that every $1 spent on wellness yields an ROI of $1.50. Even companies that don't have the resources to promote full-scale wellness programs are taking baby steps toward improving overall employee health such as offering nutritious food options for employees at work.
HealthyYOU Vending, the nation's leading healthy vending company, makes it easy for companies to promote healthier eating by providing employees with access to healthy snacks and drinks in the workplace—at no cost to the company. There are over 2,000 healthy vending products available including low-calorie, vegan, gluten free and organic options. All of HealthyYOU Vending's machines are locally owned and operated via their network of reliable operators so companies have the opportunity to support local small businesses in their own communities.
Going beyond healthy snacks and drinks, HealthyYOU Vending has offered employers another way to keep workers on-site instead of running out of the office to get something to eat. With the optional entrée/side dish vendor, employees can have access to a variety of entrées, soups, chili, stews, pasta dishes, hot & cold cereals, fruit cups, desserts and more.
According to the Mayo Clinic, a healthy diet can improve concentration, problem-solving skills and productivity, while eating junk food can decrease mental clarity and job performance. Poor diet habits can also lead to increased fatigue, mental irritability and higher levels or stress and depression.
Inc. Magazine's "8 Ways to Promote Wellness in the Workplace" also lists Hone Hunger Options as #6 on its list, suggesting sodas and junk food be replaced with nuts, dried and fresh fruit, and other healthy options. Including a healthy vending machine at your place of business is viable part of any company wellness program.
For information about how to request a HealthyYOU Vending machine for your company at no cost, go to HealthyVendingAtWork.com. All HealthyYOU Vending machines are made in the U.S., are ADA compliant, and provide 21 different healthy snack options plus 8 drink selections. The customer friendly machines are equipped with the latest state-of-the-art cashless vending technology capable of accepting Google/Mobile Wallet, Apply Pay & PayPal Mobile as well as other devices.
- END -
HealthyYOU Vending is the world leader in the healthy vending industry. Founded by seasoned vending veterans Mike Burnett and Jeff Marsh, their corporate offices are located in Kaysville, Utah. All company vending machines are privately manufactured in the United States at a state-of-the-art facility. For more information about HealthyYOU Vending, go to healthyyouvending.com.
Share: